Note:  I am currently seeking representation for Thirty by Thirty, a reverently irreverent memoir of my 365-day, 30 faith journey. If you are an interested literary agent or publisher, please contact me at rebecca@thirtybythirty.com
In honor of my CNN article, I'm inducting the following posts and people into the Thirty by Thirty Hall of Fame. (Drumroll, please!)
Favorite visit: A Warm Baptist Welcome To…
Most controverisal: Unidentified Flying Objectors (Specifically applicable to all the crazy CNN comments!)
Funniest (and only remotely related to faith): My Very Bare-y Christmas ****First inductee: My dear husband, who took all my faith-craziness in stride and wouldn't let me quit, even when I swore I was going to. He also saved me from a near-death experience this holiday season.
Recent crowd favorite, and my Mother's favorite: Alcohol vs. Aprons *****Both my parents are already in my Hall of Fame for being so supportive of this Thirty by Thirty  journey. They didn't (and don't) always agree with me, but they never fail to love and support my path! Also, my best friend Erin was with me every step (and fall) of the way…including Amish Shopping. She deserves a Hall of Fame trophy just for listening to me cry all year….and making me laugh instead.
My mother-in-law's favorite: Buddhist Temple Part 1  ******She (Becky) enters the Hall of Fame for accompying me to the Drive-in Church (We endured single-serving, coffee-creamer-esque communion), attending the Catholic Cathedral (we almost died of incense poisoning) AND participating in an authentic Native American guided meditation to find our Spirit Animals (She isbuffalo…so strong and mighty! I am a Peacock…the bird that can't fly.)
Questioning: I AM___________
Reba Riley is a graduate of 15,000 hours of Christian education, the Focus on the Family Institute and the Ohio State University. When she isn't selling construction materials full-time or freelancing at Reba Riley Ink, she's writing writing from her home in Columbus, Ohio, where she lives with her wonderful husband and their crazy puppy.  Contact Reba via Email (rebecca@thirtybythirty.com) Facebook and Twitter (links at top of page).
Continued from Beltane
We fear that which we do not understand. But what causes even greater fear? That which we believe ourselves to understand.
 The Maypole celebration ended with a ritual wherein the Priest, Priestess, May Queen and May King ceremonially offered cookies and juice to each attendee along with a Blessing. We formed a line, and one at a time went forward to receive a dual blessing: one each from the God and Goddess. I hung back a little, taking in the situation. It looked an awful lot like Holy Communion (if Holy Communion took place in the woods and was offered by people with flower crowns). Granted sprinkle cookies replaced bread, and orange drink the wine, but I couldn't shake the similarity or decide if I wanted to ingest a Wiccan Blessing (er, Communion?).
 I inched forward in the line while giving myself a silent pep-talk: There's nothing to be afraid of. It's a Blessing Ceremony, silly, not a sacrifice! It's just cookies and juice, baby, just cookies and juice. I flashed back to some unfamiliar things I've done this year (like bowing to idols and medium/psychic readings), and reminded myself that I've always come away with something good from every experience. Just as my fears cooled and I was up to bat, I noticed the ritual included the Priest and Priestess drawing Pentagrams on the foreheads of those being blessed, the same way a Catholic Priest would make the sign of the cross over a Christian in communion. It's just cookies and juice, baby, go forward!
 So I stepped up to receive my blessing from the Priest and as he started drawing the first line of the Pentagram on my forehead, everything in me jumped backwards, taking my body, almost unwillingly, with it. Whoa, I said, no Pentagram. I can't handle the Pentagram. Then the Priest jumped back and almost simultaneously accused, "You the Christian? Someone said there was a Christian here!" Without thinking, I retorted, "I'm not a Christian!" (Meaning: I'm not the kind of Christian you are thinking of!), then realized what I'd said. All four of us were very worked up in a kind of energy gridlock, so it took all I had to step back up to receive the cookie minus the pentagram. The Priestess said she could give me a blessing that wouldn't offend me, and I was all tears and sniffles and You're not offending me! I don't know what's going on but I just can't do the Pentagram!
 Graciously, she blessed me with a simple hand on my head with a prayer that would be acceptable in any religion: it ended with May you never hunger…May you never thirst. Still teary, I drank the juice, while apologizing profusely for my behavior. It was all very intense, and I had to sit down to consider exactly what in the heck just happened?! I've done all kinds of things this year and all the sudden I back down from a Blessing? Great job, Reba, invading their Sacred Space only to ruin their ritual.
We discussed the incident later by the campfire, while the others were drumming and singing, and the both the Priest and Priestess were very kind: more concerned about the balance of my energy than my Blessing breakdown. I, however, took my perceived failure home with me. It took 3 days to sort through exactly what happened in the moment I collided headfirst with the Pentagram…then 8 more to fully process. (Eleven days for an incident that lasted maybe two minutes…like I said, it was intense!) But, eventually, I did figure things out and learn more about myself and this journey in the process.
More to come…
 BY TOTAL ACCIDENT on my part, I am visiting the 28th Place of Worship on the 28th Day of my Super-Secret 30-day Project within the Thirty by Thirty Project. (Project to be finished Monday and revealed Tuesday morning.) Other interesting "Accidental" tidbits:

–15th visit (halfway) was exactly 6 months to the day through the year
– First visit (to a charismatic/pentecostal church) coincided with Pentecost Sunday
– Secret project overlaps Ash Wed., Lent, Nineteen Day Fast (Baha'i), Purim (Jewish fast and celebration "Esther's Fast"),Magha Puja Day (Celebration of the Buddha and the happening of auspicious events), Holi (Hindu) and (Hola Mohalla – Sikh). [And probably many more I do not know about!)
–30-day project ends TO THE HOUR with the end of my meditation class.
But my personal favorite is:
On the same day I was so discouraged about Thirty by Thirty that I was about to quit, I just happened to be at a forum on religion  the Exec. Producer of a major network new shows show was attending, and just happened to ask a question to the panel regarding my project, and just happened to forget to mention that, "Oh, I'm writing a book about this," which caused the Producer to ask me if I was indeed writing about this because, "It's the most original book idea I've heard in years," and she just happened to encourage me to, "Keep going. Someone will definitely pick this up."
Coincidence my friends? I think not. 
Please excuse my short hiatus from the blog. I am working on a serious project that is an extension of Thirty by Thirty, which I will reveal on March 12th. Until then, the Project is taking much of my time and energy, so forgive me if my posts are fewer and shorter (for now). I'll be back full force in March!
Today I'm disconcerted because I'm searching for an interfaith devotional…and can't find one. With all the devotional books in the world, wouldn't at least one contain daily inspirations from global faiths? 
 I am bothered by the lack of the book I'm looking for…but even moreso by my wavering resolve to continue looking.
Most troubling is my unbidden desire to simply give up the search and instead slip into Oswald Chambers' My Utmost for His Highest or Henry Blackaby's Experiencing God–the Christian daily devotionals I have read many times.
I own both of these books, and many more: my dog-eared, underlined copies with accompanying journals showcase my former devotion to daily Christian devotions. If you open these journals to any random page, you will find the desire of a teenage girl, for the very Spirit of the [Evangelical Christian version of the] Lord to descend upon her, reveal Himself to her, use her for his Glory.If you read them cover to cover, you would understand the purity of her heart, follow her unrelenting journey towards the God she knows so well and loves so very much. There are rarely questions, because her faith is absolute. She hears Him in the quiet of the night, in the chaotic hours of the day, and fully believes she is Called. She is Chosen. And her every step is guided by the Invisible hand of the Almighty.
Residing in the darkness of my Mom's attic, the Rubbermaid tubs that hold  these books and journals mirror my life before The Breaking… before I left behind the faith of my youth and, in the wake of that tidal wave of change, lost my identity, my purpose, and my God.
And this morning, as I seek a devotional book, I consider the gravity of my undertaking. The sheer monumental breadth of the task I have set before me: to rediscover my identity, my purpose, my calling. My God.
Yesterday I attended a wonderful Baha'i celebration during which I was asked to explain Thirty by Thirty, and I took questions. The most profound of which was, "What is your religion today?"
Try answering that in one sentence, in front of 150 people when you're writing an entire book on the subject.
But, unbidden, the answer quickly flowed straight from my heart through my lips, drifting over the room.
"Today? Today I am a Seeker of Divine Love."
I believe if I was to visit the the teenage girl I once was, the one who wrote so passionately asking God to use her, and tell her all the pain she would go through before being able to utter those words aloud to a crowd of strangers, she would look me straight in the eye and say:    I promise to keep searching, no matter the cost. I promise not to give up, even if I do for a time. I promise I will be there, on that day, in that crowd, and tell them.
And she would be proud.
As I am.
Even if I can't yet find the devotional I seek, or everything I desire to understand.
 Friday night is date night, which usually means Trent and I can be found at Studio 35 (only the best historic, independent food-and alcohol-serving cinema!). After taking in a show and a few drinks, we call a taxi because A.) We are committed to obeying the law! Buzzed driving is Drunk Driving! (At least, according to the billboards). and B.) We prefer to avoid jail.
This means most Fridays around 11 pm, I can be found enjoying a fifteen-minute chat with a cab driver. I always make a point to nicely chat up cab drivers because A.) They have great stories hidden under those thick accents B.) I love great stories C.) They hold our lives in their driving little hands. (Ever wear a seat belt in a taxi? Didn't think so. I, for one, prefer our lives to be held in happy hands!)
 Being that I am, well, me, I can never resist inquiring about our driver's religion after we've covered family and interesting stories. (I'm curious, OK? Especially after a few drinks. No buzzed driving remember?) Recently I've been fishing for the best Somalian mosque to attend, because Columbus has the second largest Somalian population in the US, and Islam is the religion of the vast majority.
 So far, I've had one driver tell me, "You are going to hell…" because I'm not Muslim (In his defense, I did ask his opinion. And, he informed me nicely.) Another driver who had a Catholic mother and Muslim father said: "What I am you ask? Maybe…confused?"
 Last Friday's operator is my hands-down favorite though. Not only was he wearing a suit (I always wear suit for driving!), and supporting SEVEN children (Boys give me most trouble; girls, they easy!), but he was very forthcoming about his religious practices. This is the conversation, as close as I can recall.
 So…if I may ask, are you Muslim? Yes. What is the best Somalian mosque to attend? It all same. Somali, Pakistani, any race… we not discriminate. Any mosque best place. I pray five times day. In Mosque if possible. What if you're driving the cab when it's time to pray? If I drive you to airport, I drop you off then go to close mosque to pray. What if you aren't near a mosque? I pull over, pray in the cab. I can do this right here, in cab.See?  What if you're sleeping? I pray as soon I get up!
 This is where it gets interesting.
 The important thing not where pray, but pray in heart. That most important. Yes, I definitely agree with you. You pray, yes? You Christian? Yes.(I took the easy way out here and didn't explain the whole Thirty by Thirty thing.) See you pray too, you pray in heart? Yes.  It same. Very important to pray to God. I am Muslim which mean I honor all prophet and sacred book. Mohammad, Jesus, Qu'ran, Bible…I believe in all prophet and book. So you and me, we not so different. You pray, I pray. This all same. This important thing. So…you are Muslim, you pray to Allah, but it's OK if I pray to Jesus? Yes, OK, all OK.
 The gentleman is highly devout, very devoted to his faith. He prays five times a day! But yet…he holds his beliefs with his mind open to other faiths. I like him, I like him A LOT.
 Post-payment and tip, we thanked him and I left the cab spiritually shell-shocked. Here I am: spending a year of my life in 30 thirty places of worship, looking for theology that fits…and I find it. On date night.IN A CAB. 
 Not from the pulpit: from the front seat. Not from a minister: from a foreign taxi driver. Not while sensitively journaling about my faith: while buzzed after a good film.
 I doubt our driver will ever realize the impact he had on me in our short minutes together, but I'll always remember he added a few sentences to my personal theology. And that was well-worth the cab fare.
This morning, the questions pulling at the hem of my faith are whispering:
What if, when God said I AM, we misunderstood?
What if God simply said I AM to us, to all of humanity, but that wasn't good enough ? Maybe we wanted more, needed more: like the Jews of the Old Testament, who rejected God as their nation's leader. We want a King, they cried. They needed more: more than Jehovah, more than Abba, more than I AM.
Perhaps we needed a predicate nominative, a fill-in-the-blank ad-lib in Whom to place our faith. An I AM______________: summed with words that we could understand, we could see…Something we could draw lines around and call our Own.
And what if, after we consumed the _______________,with our utterances, we still needed more?
Did we add  to I AM? Did we follow all the nouns with verbs, round out phrases with adjectives? Did we complete all the parts of speech that never really existed? Did we create sentences wrapped into paragraphs which  filled up pages and flowed into sacred texts? Did we cry out with words that formed Religions…whole cultures of grammatical dissent?
We fight and war, debating the -ologies with Holy Fervor: today, here, with our Voices; yesterday and elsewhere with our Weapons. All to defend the words that define our beliefs.
What if, What If?,  the only phrase, the original origin of the world, was quietly I AM? An affirmation of Divine Existence… of  all Creation…of God…of us…and the whole Universe. The whole Godiverse.
The simplest statement of Being, the first noun and verb we learn in any language.
What if all God really said was…
I AM.
 Next Post: The story of my hilarious visit to a historically African-Amercian Baptist Church… who won my Award for Best Talent and tied for Miss Congeniality!
"What if churches were like…beauty pageant contestants?" I asked my favorite beauty queen  Scholarship Pageant Contestant friend.
We were playing hooky on Wednesday afternoon, contemplating life and her upcoming Miss Greater City appearances over $3 martinis (Weekday afternoons are the best time for cheap drinks! Unless said drinking causes you to question your status as an alcoholic… Which I did not.)
"Hmmm…" she gravely considered. (As gravely as possible over cheesy fries.) " That could work. Though you'd have to call them Scholarship Contestants as to not offend."
"I'm fine with that. Bartender, one more! And blank receipt paper, please!"  I grabbed a pen and started my list, with much help on the particulars from Miss Greater City. A note on MGC: she is an ebony beauty so pretty that it  hurts my eyes to look at her.I have to wear sunglasses to deflect the glare from her multiple crowns. (When we go out I content myself with being Number 2 Vanilla because Number 1 Chocolate? So much better…especially when she comes with sparkly sprinkles!)
So, without further ado…the envelope please! Awards for the first half of Thirty by Thirty go to….
-Beauty and Swimsuit: Catholic! There was a unanimous decision by the judges. Catholic cathedrals really have no competition when it comes to glitz & glamour…from slate roofs and soaring towers to marble floors, these churches have it goin' on!
-
Best-dressed: Eastern Orthodox! Bishops' robes include a fabulous display of color (red!blue!green!), gold sparkle, lace and satin. Their fantastic head-ware sealed the deal for us.
-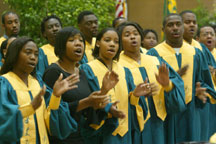 Talent:  The historically African-American Baptists! Another unanimous decision by the panel…is there anything more rousing than an hour of rhythmic harmonizing combined with clapping, stomping, and "Praise the Lords!"? We don't think so! Not to mention their creative use of the organ trills to punctuate the sermon…chills all around…Hallelujah! We dare you to not tap your toes while listening to the Power of the Gospel choir.
Miss Congeniality: Hindu...but it is worth noting that it was a close race with the African-American Baptists. The head judge received many more hugs from the latter, but the former were the most radically welcoming.
Interview: Pentecostal Mega-Church! (The panel offers that this winner was eliminated in the first round due to rule-breaking including abuse of other contestants and refusal to compete in beauty/swimsuit portions. However, the interview award was given prior to dismissal.) One person is responsible for earning this award…Dot, a fellow pew-sitter who was kind enough to give the judges a briefing on the Gifts of The Spirit, including the Speaking of Other Tongues, which she proudly demonstrated for us.
Scholarship: Quaker! This was a near-tie with the Atheists because of the academic nature of the discourse. However, the Quakers invited the judges to lunch, over which they discussed spiritual theory of multiple denominations. Several of the participants work as college professors or scientists which increased the overall smartness factor.
Team Spirit: Stadium. "Nuf said. See post regarding stadium worship here.
And the GRAND SUPREME WINNER OF ROUND TWO IS …..
The Historically African-American Baptists! Due to their overall greatness in Talent and Congeniality, with honorable mentions in all other categories. Best Dressed: Colorful choir robes! Team Spirit: Obviously! Scholarship: We learned much about Joseph of the Old Testament from the Sermon! Interview: They interviewed us as visitors! (More to come on this story!) Beauty and Swimsuit: Lovely stained glass was complemented by all the beautiful hats worn by the Ladies of the Church!
Please note these awards are only the second round! The final winners will be announced after May 15th, 2012.
Sister #1: I got a remote start in my car for Christmas!
Sister #2: I got an IPAD!
Me: I got a pair of socks from the emergency room…
Brother-in-law: At least your present was the most expensive.
Henceforth this holiday shall be known as: The Christmas Rebecca Landed in the ER. (For a case of hives that migrated to her throat, which started swelling shut.)
It shall also be known as: The Year a Doctor Scares Trent. (When, upon our arrival at the urgent care clinic, we were immediately sent away by the attending physician to the "Real ER, where they can do something for your wife.")
And this is why I do not have a post about attending a Christmas service.
On the bright side, I did pray fervently between the urgent care and the "Real ER".
Lesson Learned: Only go to the urgent care clinic with urgency…not an emergency.
Bonus Lesson: If, in the excitement of a swelling throat, you fail to wear socks, the ER nurse will gladly provide you with a  pair for the nominal astronomical price of your stay. But only AFTER you have bared your bottom* to your mother-in-law, your mother-in-law's neighbor's son [he is a doctor! I do not expose myself to visiting neighbor's sons for fun!], three urgent care nurses, one incompetent urgent care doctor, three ER nurses,two ER physician's assistants,and a partridge in a pear tree.
(*My bottom would like to note that it prefers to remain covered. However,  if it is called to duty, in such cases as it being eclipsed by welted, migrating hives and thus becoming a threat to the life of its owner, my bottom is very patriotic and willing to be bared, even if said baring causes much shame!)
Apology:
I realize this post has nothing to do with going to places of worship, except that I skipped going to church on the biggest church day of the year. So….sorry about that.
In my defense, I am certain more people find God in the Emergency Room in one day than find Him in some mega-churches on Christmas. 
FAQ:
1. Do you know what caused the hives? No.
2. Have you eaten anything new or changed anything recently (add long list of things you think I may not have considered as a cause but, believe me, if you think your throat is swelling shut you ponder possibilities. Very.Very.Thoroughly.)  No.
3. Can the doctor tell you what caused them? No.
4. Are you OK now? I am drugged up on Benedryl, steroids and various antihistamines. Everything is OK.
Shout-Out!
A big shout-out to Jen Lancaster,  NYT best-selling author of multiple books (including my fav Bitter is the New Black),whose hilarious, sharp-witted voice I heard in my head while considering the absurdity of my Christmas Situation in the ER. Though I have not the faintest idea of Ms. Lancaster's religious views outside of her former attendance at the Magnificent Mile Mecca,I believe we share an affinity for mild, mind-altering meds (Her: Ambien. Me: Benadryl). Thanks for your great sense of humor…it ( and the drugs) helped get me through My Very Bare-y Christmas.
cheezburger.com
Please like Thirty by Thirty on Facebook if you enjoyed this post! www.facebook.com/thirtybythirty
And don't forget to visit Jen Lancaster on FB if you need a laugh! www.facebook.com/AuthorJenLancaster
Tags
Faith, Faith blog, theology,Reba Riley,thirty by thirty, 30 by 30, thirty x thirty, 30×30, faith, faith blog, God, blog faith, on faith blog, faith blogs, faith & theology, faith theology, unreasonable faith,on faith washington post,washington post on faith,church, christian,Jesus,hope, Bible,what is faith,faith in God, faith book,world religion,religions world,the major religions, lost faith, lose faith,losing faith in faith,confidence in God, losing my faith,faith God, find faith,find your faith, jen lancaster,big lights,goodkind,jennifer lancaster,lancaster book, recovering christian, recovering catholic
"Aunt Rebecca, do you believe in Santa Claus?"
(Carefully) "Do you believe in Santa?"
(Vigorous head-nodding and jumping around) "Yes!!!"
(More carefully) "How do you know he's real?"
(Puzzled) "Don't you know if you believe in Santa you can hear jingle bells when you close your eyes?" (Squishes eyes tightly) "I'm hearing them…right…now! Do you hear them?"
I shut my eyes, but all I hear is my seven year-old niece's  excitement.
How I wish I could hear the jingle bells: my niece's irrefutable proof that Santa lives, that elves are working happily away in the North Pole, that presents will appear under the tree, that the world is full of joy and peace, that all is safe and right and magical.
Her bells hold all the magic of Christmas wrapped into a sound that fights the inevitable hows and whys. How can Santa reach all the children of the earth in one night? Why do people without chimneys still get presents? How do reindeer fly? Why is there a Santa at every store?
But all these questions? They mean nothing to her now. Because she can hear the jingle bells.
When my niece talks about Santa, she glows; her eyes light up with the wonder and magic of Christmas, and reflected in her is all the world's joy. I encountered the same shiny look on the faces of the Mormon missionaries, and I wanted to throttle them—actually lean over the coffee table and strangle them with their Army of God-issued ties.
Because I felt very, VERY jealous…as evergreen with envy as a Christmas tree.Because they shut their eyes and hear jingle bells, but when I close mine questions are all I hear. I know how it feels to be so, SO certain of everything. To believe. To hear the jingle bells.
It is so happy and easy to have all the answers handed to you, to wrap yourself tightly in the peace that surpasses understanding. To share the belief, the wonder, the magic, with people who love you because you can hear the same jingle bells as they.
But what happens for my niece when someday her best friend whispers more questions in her ear, planting the seeds of doubt? When a boy makes fun of her on the playground, taunting "You still believe in Santa?Don't you know he isn't real?"
What happens when the Mormon missionaries open a closet before Christmas Eve, and all their presents tumble out?
When they all close their eyes…and can't hear the jingle bells?
I'll tell you what happens: you lose your faith. In Santa, in religion, maybe even in God. And you push it all out of your mind, ignoring the ache that lives where there once was magic. You denounce everything that you once put your belief in, grow up, and don't acknowledge the hurt, the betrayal, because it simply hurts too much.
And then.
Nine years later.
You wake up and realize you want to believe in something real. You want to hear jingle bells without closing your eyes.
And seven months later, on Christmas Day, you realize you DO hear them ringing… loud and clear.
With your eyes wide open.
Because you are the one shaking them.
Tags
Faith, Faith blog, theology,Reba Riley,thirty by thirty, 30 by 30, thirty x thirty, 30x30, faith, faith blog, God, blog faith, on faith blog, faith blogs, faith & theology, faith theology, unreasonable faith,on faith washington post,washington post on faith,church, christian,Jesus,hope, Bible,what is faith,faith in God, faith book,world religion,religions world,the major religions, lost faith, lose faith,losing faith in faith,confidence in God, losing my faith,faith God, find faith,find your faith
Post-Christian Spiritualist Temple Experience, no one was more surprised than me to discover the existence of dark energy outside the confines of Paranormal Activity I, II and III.
I boast a long and rich history with Satan, wherein certain parents and pastors of mine systematically rebuked him in the name of Jesus, regularly banishing his malevolent minions from our house, my bedroom, and the church. I even witnessed the exorcism of a church camp sound system that was behaving badly. Clearly this was no ordinary power surge! The Evil One himself infested the equipment to keep 4th graders from hearing the message of salvation for the twenty-seventh time in six days! This process, known in Christian circles as Spiritual Warfare, was simultaneously comforting and frightening.  I understood said warfare to mean  that Satan could enter our house and possibly hide out under my bed (scary!), but my Dad could easily make him depart by praying (calming!) until he came back again (alarming!).
Upon considering the Devil as an adult, I threw out the idea of a lurking,evil entity preoccupied with ruining church camp sermons. I also tossed the notion of intelligent evil altogether and, carefully refraining from exorcisms of inanimate objects, proceeded happily along in my life without the heavy burden and time-commitment of telling Beelzebub to Depart from me! In the name of Jesus!
Around the same time, I rejected praying out loud. There are more reasons for this than the exorcism factor, but it suffices to say here that 99% of the (few) prayers I uttered after my 21st year rose from my mind to the Almighty's ear. I conscientiously objected to spoken prayer on the grounds that an all-knowing God needed not hear my voice. And, it was just too traumatic to pray out loud. Much to close to my past for comfort.
Anyhoo. An alert reader needs this background information to understand just how bizarre the events following my time with the Christian Spiritualists really were. Please keep said background in mind when I say this: something sinister followed me home from the witchcraft/Christian-craft conference.
You know that time you randomly stepped in a pile of dog poo? And didn't realize it until you walked in the house, took off your shoes and sniffed? That's how it was when I arrived home after five hours with the Christian Spiritualists.I discovered (too late!) some metaphysical ju-ju clinging to my spiritual shoe-shoe.
In the immortal words of bumper sticker-ists everywhere, "Sh** Happens". And apparently it happens to me…in the First Christian Spiritualist's temple sanctuary…with a crystal. Or maybe it was a tarot card–or a divination rod–or a hymnal?
It started simply enough— with a headache—which became a bad headache— that turned into  The.Worst.Headache.Ever. EVER! My head hurt so badly I thought it was going to split open right there is the bed, which I was in for a full fourteen hours. Note: migraines have never, ever plagued me, but plagued I was, and would continue to be, for the next three days.
I awoke that night and the following two nights promptly at three a.m., with a disturbing weight on my chest and terrible anxiety. Once awake and thoroughly freaked out, I felt some kind of dark presence in our bedroom. Note:I have never felt unsafe in my own bed, unless you count the time Oxley knocked over the laundry basket and I thought someone was breaking in.
I prayed silently;it went away. I stopped praying; it came back. Feeling crazy, I woke up Trent, who rolled me into a bear-hug and told me to calm down. But calm down I could not…not while this creepy energy was hanging out with me.
After two days of this weirdness, my spiritual circuitry was so hot you could fry a metaphysical egg on my chakras. I was on high-level alert, like a red rating of spiritual terrorism. I considered calling a priest, even though I am not Catholic. Instead, what did I do? I called my father. In the middle of the night. To pray for me. OUT LOUD. It helped, until the next day when the weirdness forced me to do the unthinkable.
I personally got down on my knees and prayed. OUT LOUD. Rebuking whatever evil was lurking around me and commanding it to Depart from me! In the name of Jesus!
And…it left.
I refuse to name the weirdness Satan, and I suspect that invoking the power of Christ against it was a conditioned knee-jerk reaction based on my childhood and watching too many scary movies. My best guess is that in willingly (and foolishly) joining my energy with about twenty other psychics of dubious origin, I managed to carry home some transference of negative energy. Spiritual or natural I do not know, and I realize this whole thing is very New Age-y and stinks of sensationalism. But still.
If I ever consult a psychic, or medium, or Christian Spiritualist again, I plan to take a crucifix, garlic, and a rosary with me. And possibly bathe in Holy Water before and after.
I am thankful, however, that the spiritual ju-ju forced me to break through my praying wall. I can now pray out loud with anyone, anywhere, for any reason. Except maybe to banish Satan from church camp sound systems.
Tags
Faith, Faith blog, theology,Reba Riley,thirty by thirty, 30 by 30, thirty x thirty, 30×30, faith, faith blog, God, blog faith, on faith blog, faith blogs, faith & theology, faith theology, unreasonable faith,on faith washington post,washington post on faith,church, christian,Jesus,hope, Bible,what is faith,faith in God, faith book,world religion,religions world,the major religions, lost faith, lose faith,losing faith in faith,confidence in God, losing my faith,faith God, find faith,find your faith, christian spiritualism, christian spiritualists