With accidental start and end dates of  Pentecost Sunday ('11) and Easter Sunday ('12),  I have successfully completed my 30+ visits.But…I'm not done yet! The completed are, in no particular order:
1.Living Word Church (my childhood church) 2. King Ave Methodist (GLBTQ Reconciling) 3. Lake Erie Drive-in 4. Buddhist Temple 5.Pentecostal Mega-church 6.Baptist 7.African-American Baptist 8.Movie Theater Rock 9.Hindu Temple 10.Synagogue 11.Roman Catholic 12. Eastern Orthodox 13.Vineyard 14.Jehovah's Witness 15.Mormon 16.Atheist 17.Stadium 18.Christian Spiritualist 19.Emergent Independent 20.Quaker 21.Hare Krishna 22.Scientology 23.Unitarian 24.Baha'i 25. Storefront Redeemed 26.Christian Science 27. Stone Village 28.Sikh 29.Naturalist 30.Taize 31. Vertias (church of the boot camp) 32. Seventh Day Adventist
(Note: My blog checklist is typically behind because I have to rely on my web programmer to change it.)
I was  heavy on the Christian churches, especially in the beginning, so I am doubling back to attend a few originally on the list and several additions before the 5/15 deadline:
–Native American–Amish–Pagan and/or Wiccan–Kabbalah–Mosque
Though I've not had luck locating the following in my area, I am still interested in:
–Zoroastrianism–Tao–Sufi–Xenos–African/tribal–Voodou–Virtual–Rastafaria–Gnostic–Jainism–Confusionism–Shinto–New Thought–Polytheistic (any culture, but particularly Celtic)–Shamanism–Snake-handlers
With continual help from the Spirit, I've gone from Post-traumatic Church Syndrome (barely being able to enter a church) to being able, and excited, to attend places of worship of all faiths and even non-faiths. I've also completed a Thirty-Day fast, studied Ancient Christian and Buddhist meditation, read extensively on multiple religions, sorted out my own beliefs, found a faith I can believe in, known and seen my God, changed my career, discovered my ministry and calling, started this blog–thanks to the good advice of someone wise, written nearly 100,000 words for the book (probably only 10,000 that are any good!), survived three physical and one spiritual bootcamp & ,  (surprise!) found a church, and much, much more. But these are stories and conclusions for other days!  I still have much more to write about. So, let the quest and the blog continue
I nearly quit Thirty by Thirty at least a dozen times. So…for all those who have followed and encouraged this journey…thank you! For those who have criticized it…thank you as well. Everyone who has touched this path has helped it toward completion. I'm not done yet. And probably never will be!
All my love–Reba 
Follow on Facebook
"What if churches were like…beauty pageant contestants?" I asked my favorite beauty queen  Scholarship Pageant Contestant friend.
We were playing hooky on Wednesday afternoon, contemplating life and her upcoming Miss Greater City appearances over $3 martinis (Weekday afternoons are the best time for cheap drinks! Unless said drinking causes you to question your status as an alcoholic… Which I did not.)
"Hmmm…" she gravely considered. (As gravely as possible over cheesy fries.) " That could work. Though you'd have to call them Scholarship Contestants as to not offend."
"I'm fine with that. Bartender, one more! And blank receipt paper, please!"  I grabbed a pen and started my list, with much help on the particulars from Miss Greater City. A note on MGC: she is an ebony beauty so pretty that it  hurts my eyes to look at her.I have to wear sunglasses to deflect the glare from her multiple crowns. (When we go out I content myself with being Number 2 Vanilla because Number 1 Chocolate? So much better…especially when she comes with sparkly sprinkles!)
So, without further ado…the envelope please! Awards for the first half of Thirty by Thirty go to….
-Beauty and Swimsuit: Catholic! There was a unanimous decision by the judges. Catholic cathedrals really have no competition when it comes to glitz & glamour…from slate roofs and soaring towers to marble floors, these churches have it goin' on!
-
Best-dressed: Eastern Orthodox! Bishops' robes include a fabulous display of color (red!blue!green!), gold sparkle, lace and satin. Their fantastic head-ware sealed the deal for us.
-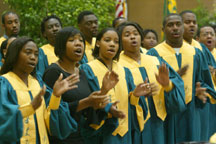 Talent:  The historically African-American Baptists! Another unanimous decision by the panel…is there anything more rousing than an hour of rhythmic harmonizing combined with clapping, stomping, and "Praise the Lords!"? We don't think so! Not to mention their creative use of the organ trills to punctuate the sermon…chills all around…Hallelujah! We dare you to not tap your toes while listening to the Power of the Gospel choir.
Miss Congeniality: Hindu...but it is worth noting that it was a close race with the African-American Baptists. The head judge received many more hugs from the latter, but the former were the most radically welcoming.
Interview: Pentecostal Mega-Church! (The panel offers that this winner was eliminated in the first round due to rule-breaking including abuse of other contestants and refusal to compete in beauty/swimsuit portions. However, the interview award was given prior to dismissal.) One person is responsible for earning this award…Dot, a fellow pew-sitter who was kind enough to give the judges a briefing on the Gifts of The Spirit, including the Speaking of Other Tongues, which she proudly demonstrated for us.
Scholarship: Quaker! This was a near-tie with the Atheists because of the academic nature of the discourse. However, the Quakers invited the judges to lunch, over which they discussed spiritual theory of multiple denominations. Several of the participants work as college professors or scientists which increased the overall smartness factor.
Team Spirit: Stadium. "Nuf said. See post regarding stadium worship here.
And the GRAND SUPREME WINNER OF ROUND TWO IS …..
The Historically African-American Baptists! Due to their overall greatness in Talent and Congeniality, with honorable mentions in all other categories. Best Dressed: Colorful choir robes! Team Spirit: Obviously! Scholarship: We learned much about Joseph of the Old Testament from the Sermon! Interview: They interviewed us as visitors! (More to come on this story!) Beauty and Swimsuit: Lovely stained glass was complemented by all the beautiful hats worn by the Ladies of the Church!
Please note these awards are only the second round! The final winners will be announced after May 15th, 2012.