Two weeks ago, I was the Maid of Honor (er, Matron of Honor–but doesn't that make me sound like someone who wears jean jumpers and bakes homemade bread?) in one of my best friend's weddings. Actually, it's not fair to just call it a wedding… it was more The Bridal Event of The Century. Clara married a wonderful a very, very, very wealthy gentleman, and they spared no expense in creating an incredible Napa Valley weekend for all the guests. The whole time I kept waiting for the Robin Leach voiceover–And now, on Lifestyles of the Rich and Famous… ".  I think I cursed more that weekend than ever in my life; the only adjective that adequately The Event was "In-f*ing-credible!" Also, I had a conversation wherein a guest referred to cars costing under $100,000 as "Disposable."
In addition to toast-giving and bride-calming, I consider it the Maid of Honor's duty to help guests get to know each other. So—I asked everyone this icebreaker question: "If you had three wishes, what would they be?" Of course this necessitated that I first answered my own question, which was fine because I'd just spent the last week writing my book introduction, which opens with my wishes. They are, in no particular order:
1.Fergie's song "Glamorous" to play every time I enter a room, like in the movies–except for real–because I would always look like a 1940s starlet. Unfortunately, I tend to look more like swamp-thing most days, so the chorus would have to be re-written to "S-w-e-a-t-p-a-n-t-s". 2. Unlimited wishes, obviously, because I'm always peeved that characters forget about this glorious option. 3. Write a book that Oprah loves so much that she makes it her book club selection. (Or meet Oprah. Or see Oprah waving from the 42nd story of a Chicago building). I have a major girl-crush on Oprah and hope God is a lot like her.
In case the discerning reader notes that my wishes are not altruistic, please keep in mind I have unlimited wishes for things like world peace and saving all the sad, abused animals on TV commercials featuring Sarah Mclaughlin's Angel.
 A few of my favorite wishes came from our (awesome!)  hair and make-up army, including: the ability to travel extensively via teleportation, a bi-costal lifestyle (for which instanteous travel would be helpful), and the power to fly. Collectively the bridal party decided that reading minds and invisibilty were bad ideas because, let's face it–that could be downright dangerous to one's self esteem.  I am happy to report that even the wealthiest among us–those of the private jets and disposable cars– wish for the same things as we, the little people : love, joy, making a difference,  happiness and safety for family and friends.  One gentleman even teared up, saying he had only one wish: that his children would grow up to be healthy, happy and loved. All totaled, it was a wonderful little game, and I was touched by all the answers….except for the guy who said he wouldn't take the wishes because wishing is stupid. I think he's stupid. Take the wishes! Give them away if you must, but for the love of all that is holy, take the damn wishes!
For the record, I  think he was lying. Would anyone actually turn down wishes? Especially if they were bestowed by a singing, dancing blue genie with a Robin Williams voice? This is the only way I can imagine being granted wishes; I think my parents allowed me to watch Aladdin one too many times. This is curious because I wasn't allowed to watch the Smurfs on account of their being a little too much like demons, with evil Papa Smurf the devil in disguise. My pressing question is: was Smurfette a she-devil? I hope not! I think she is rather glamorous, and we all know my aspirations towards glamourousness. I will have to remember to ask my mother– who will undoubtably deny depriving me of Smurfs–where Smurfette figures in the demonic metaphor. Personally, if I were a religious parent seeking to protect my children from the evils of cartoons, Princess Jasmine's immodesty, carpet-flying and rebelliousness might rank higher on my list of Inappropriate Cartoons.
The best wish I heard all weekend came from the groom's daughter who, please remember, is a child of incredible wealth and privilege :I wish that I will meet someone and marry them and be so in love that we grow old and gray together and die at the exact same time. —–Moment of Shame: I'm wishing on a pop song while this sweet little girl is wishing on The Notebook plot. And I am MARRIED. Matron of Honor, remember? #SHAMED.—–
So here is The Bridal Event of the Century's pseudo-spiritual takeaway: if a cartoon genie of dubious character approaches you on the street and offers you wishes, take them. Then consider for a moment that, at our core, we are all much more alike than we are different…our wishes don't lie.
( Unless you're the guy who lies about wishes. Thanks for ruining my conclusion, dude.)
Dear FutureReba:
After Chariots of Fire-esque photo finish last week (minus the race number and bad hair), you're taking a victory lap, relishing crossing the Thirty by Thirty finish line. Fergie's Glamourous is playing in the background of your elation, and you're coasting… happy and excited to take on the Summer of the Book Draft. I hate to wag my finger in your well-earned glory, but someone has to remind you…
There will be days very soon, possibly tomorrow, when you'd rather have your foot run over by a car than continue your life's work.
You'll look in the mirror and curse yourself–loudly, in the manner of a sailor overboard– for putting yourself, your heart and your journey out there for the world to pass judgment on.
You'll want to quit more than a germophobe working in a sewage plant.
In the face of self-doubt and loud protestors, you'll want to rip off the bull's-eye that is Thirty by Thirty, and wave it like flag of surrender.
 Don't.
 When you look in that mirror, go ahead and curse (because it feels good!). Then remind yourself –loudly, in the manner of a Baptist preacher–that you put yourself, your heart, and your journey out there knowing full well that a few will pass judgment in the wake of many being inspired. It's just collateral damage, babe, just collateral damage.
 Instead of quitting, look squarely at that mess of sewage and rock a cannonball. There's no way out but through… (the manure).
 Then paint a huge bull's-eye on a sandwich board and suit up. Some offensive arrows will land, but your sign will also give Seekers everywhere a shot of encouragement.
Writing is sometimes awkward, as when you rear-end a guy in the rain and get stuck huddling with him under a small overhang while the waiting for the police. But writing about religion? Other people's religion? That's awkward in the manner of wrapping your car around a tree and breaking lots of bones. Just get used to it. Because you didn't choose it; it picked you. Besides, your fingers will itch forever if you fail to share your journey of transformation…and itching totally sucks. (Recall: the Holiday of Hives.)
 And stop crying already; it wrinkles the skin. Do you really wanna be a crying, cursing, poop-covered, oldster-sandwich board in traction?  Didn't think so.
Love,
PresentReba
Find Thirty by Thirty on Facebook and Twitter
I used to be an Evangelical Poster Child. Today, I am contending for the coveted title of Most Uninspiring Spiritual Seeker Ever! (And? If the Academy was voting this very second? I would totally win. I mean, I'd win hands-down with the most-unanimously-unanimous vote in the history of voting.) I'd be crowned Victor of Un-Inspiring-ness (and Princess of Pitiful, if I had anything to say about it, which I do not) because I have been creatively angling for the title for days.
 My winning tactics for are as follows. (They are my gift to the world, and I give them freely–provided I keep the shiny statue upon my victory).
Contract staph infection which manifests in the form of a strange red walnut on your chest, otherwise known as a 3rd (albeit alien-style) breast. Take two double-strength antibiotics twice a day for 7 days, and wait for the 3rd boob infection to shrink. It does not.
Severely sprain ankle whilst walking home from a bar, after celebrating the completion of Husband's 2nd year of law school with too many shots of chocolate-whipped-vodka shots, which should not be taken with double-strength antibiotics. (Achieve this by drinking to excess, wearing heels, then staging a Hostile Sidewalk Encounter. Pain is certain to follow.)
Wearing Frog Prince Flannel pajamas, lay in bed for two full days. Sleep intermittently and read Kindle between naps.
After falling asleep while reading, roll over, effectively breaking Kindle's screen.
Only when completely necessary (as in the case of actions your Husband cannot do for you, such as visiting the ladies room) hobble about on borrowed crutches (slightly janky but lovingly appreciated!) which feature hand-holds at different levels and a lovely green washcloth taped to (only one) armrest (for comfort!).
While staring at your bedroom (because you no longer have anything to read, except business reports, which are bor-ing and totally incompatible with pain meds) complain that your space has taken on the distinct look of an episode of Hoarders, minus the dead animals and trash. (Mostly. Dog, still being very much alive, has scattered bathroom trash amongst dirty/clean/unknown-status laundry.).
After taking brain-addling pain meds, attend bi-weekly conference call which is typically as easy as third-grade math with boss, who, during said call, morphs into a sadistic version of your college statistics professor and gives you a pop exam that you are not ready for, regarding the bor-ing reports you failed to run/read. [Note: I really do love my boss. He is a great guy and will teach me A Lot of Great Business Stuff. Eventually, when I get a warning that the

Spanish

Business Inquisition is coming.]
Hang up from Evil Call and dissolve into a mess of tears, which causes two-day-old mascara to run all over your face, in the manner of an angry abstract painting, but not as pretty.
On the way to the ladies room, glance in the mirror. You will see the reflection of a Winner!
At least I have four days to get my s*** together before Thirty by Thirty is over, and can still hope to achieve Inspirational Spiritual Seeker Status in the future…someday. (But, dear readers, should I become a totally famous author? Please deflate my balloon head by reminding me of this post. XOXO.)– Reba
Last Easter, I never imagined I would spend the following Resurrection holiday with the Sikhs, decked out in Indian dress instead of my Sunday best. But due to a looming Thirty by Thirty deadline on 5/15, I needed to cross Sikhism off the list more than attend a service of the Cross. So, off I went to the Sikh temple, grumbling about trading  padded pews for floor-sitting, and cantatas for confusion. And Confused I was… quickly discovering that I totally suck at being Sikh.
How I Suck at Sikh, Exhibit 1: Language. While fluent in most dialects of Christianese, my knowledge of Indian languages is, ahem,lacking. Or non-existent. And the few words I do know? Like, for food? Naan,ghee,lassi), do not an appearance make in the Guru Grath Sahib (the Sikh's First Holy Scripture). Nor do they figure in Mr. Esteemed Turban Man's attempts to direct me through temple customs. (Which is how I ended up: A) trying to ritually wash my face instead of, correctly, my hands and B.) seated on the men's side of the temple on a bench reserved for the elderly C.) listening to The Reading of Sikh Scripture for a full 90 minutes before realizing I didn't have to stay in there the whole time and D.) Failing to bring cash or an offering to the altar and E.) Turning my back on the altar…a big no-no. Ooops.)
 Exhibt 2: Timing. As I've discovered with other Eastern religions, time is a fluid concept. People show up when they feel like it, often over the period of an entire day, wandering in and out of the Temple to eat, chat and eat again. But I smartly managed to forget this fun fact when I showed up, ready to worship, or whatever, ten minutes before Sukhmani Sahib paath (service) start time. I was the only person in the Temple, save the Granthi (religious leader reading from Scripture) and a monk-like figure in the far corner.
Exhibit 3: Dress. Once the ladies did start arriving, I realized I should have made another trip to the Sari store. At least I knew to bring my scarf. But being white wasn't the only reason I stood out…I looked pretty awful compared to their lovely traditional dress. All the colors of Easter eggs were represented,along with sparkles, beading and bells. And what was I wearing? Black.
Exhibit 4: Food. Eating or Langar (translation: free kitchen) is integral to Sikh services. Not only do they feed their congregation, they feed everyone who shows up.  The problem? Smelling authentic Indian food before noon kind of turns my stomach. (No offense to the cooks intended.) Further, I somehow ended up seated at the kid's table. And even the kids didn't talk to me.
I realized I should just give up and go home. Not only did I feel bored and excluded, I was disappointed in all my inadvertently bad behavior.  How do I manage to suck so badly when I've been at this foreign religion thing for 11 months??? But, right before I was about to dump my plate in desperation, my salvation appeared: a vision in purple dress, the English-speaking Temple President rescued me from certain failure.She took me under her gauzy wing, and I spent the following hours being introduced as "The author from Ohio State!" (which wasn't quite right but I didn't correct her). She talked and translated and embraced the "courageousness of my journey!" (also not quite right, since I nearly ran away before she showed up, but I didn't correct her). She explained the religion to me, giving life to the stories and customs I had researched in advance. Her faith was so strong, and her temple work so tireless, that it gave me chills to hear her recount the tenants of Sikhism.
"There is only One God, the Creator of the Light. And we all worship Him no matter our faith, whether we know it or not…Being a Sikh is about freedom and equality: in gender, in religion, in race, in caste…we are all equal in the eyes of God. Which is why we all sit on the floor when we eat. Even me, especially me, because I am President here, it is most important that I sit equally, as a servant…remember in your journey equality, and do your interfaith work. Because it needs to be done, it must be done. People need to hear the message that we are all one."
As I hugged her and others goodbye, I realized from her words that despite all my exhibits to the contrary, she didn't think I sucked at being Sikh for a day. And who am I to argue with the President?
On my way out the door, she wished me,  "Happy Easter!" And it was.
Follow Thirty by Thirty on Facebook
And now the Super-Secret Project and reason for my blog hiatus: I completed a Thirty Day total fast (no food, no alcohol) yesterday at sunset. The experience was completely incredible and entirely life-changing. Much more to come in the next month about how and why I did it, why I kept it a secret (even from family and friends!)…and what it did for me. Make no mistake: if you fast for 30 days? God shows up. For now…this is how it went… and how I got through it:
Ten percent Luck /Twenty percent Skill / Fifteen percent concentrated Power of Will / Five percent Pleasure / Fifty percent Pain /And a Hundred percent reason to Remember the Name   [Lyrics Fort Minor]
+
+
+
+
+
+
+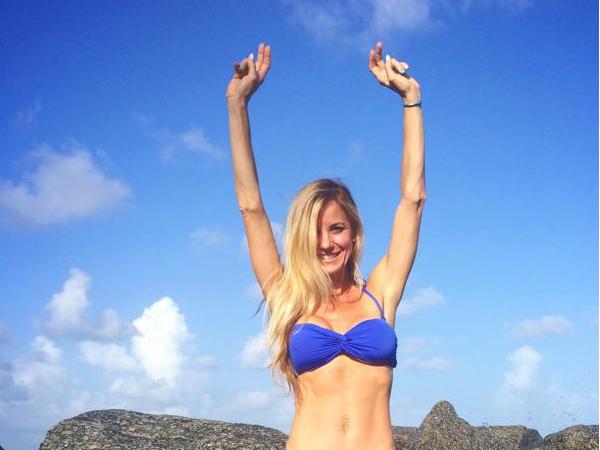 +
+
+
 +
 +
Admittedly, this circa 2004 story is old news.
 But, being it is almost old enough to be vintage-cool, I thought a few of you might enjoy a visit to the world's first 3D Interactive Church….a quiet place to sit  (via avatar), pray (via text), listen (to electronic hymn), and reflect (on your own). After my own visit, I think more churches should have online sanctuaries. Not even the most traumatized among us would be reduced to tears by a cartoon altar. I, for one, love this. It should totally be listed in the National Historic (Virtual) Record.
United Kingdom–25 May 2004–http://churchoffools.com/news-stories/03_41000.html
Earlier this week, Church of Fools welcomed 41,000 visitors in one 24-hour period. We document the extraordinary first 14 days of Church of Fools.
Since last week's launch at the UK's National Christian Resources Exhibition, Church of Fools has been welcoming, on average, 8,000 visitors per day. But on Wednesday, over 41,000 visitors crammed into the church in one 24-hour period, exceeding all expectations for congregational size.
The reason was a phenomenal second wave of publicity about the church which went all round the world. With headlines such as "Internet devils smite virtual church" (The Times, London) and "Cyber church reacts to 'Satan' visit" (CNN), the world's media reported on the hacking and mischief-making that went on in the church earlier in the week.
"Church of Fools said Wednesday it had shut to outsiders its pulpit, lectern and space round the altar to stop less than religious types giving messages definitely not from the Almighty," reported CNN. The church also recruited a team of 12 wardens, armed with smite buttons which can be used to eject people who log in to the church simply to cause trouble.
The church is now offering services of morning and night prayer (in UK time) each day, and response from visitors to the cyber sanctuary has been mostly positive.
"I have a friend who has claimed not to believe in God for many years," wrote Sandy from North Carolina. "He had a crisis this week and wanted a place to try a prayer. No way would he ever go to a real church. But he went to yours, said his first prayer in many years and told me he felt much better afterwards."
Jenny from Reading, UK, wrote: "I have only managed to get in once as a 'solid' but ended up having an interesting conversation with a Jew. I don't really meet Jewish people in real life, so it was a good experience, especially as our religions have so much history in common."
The strangest, and maybe the most heartwarming, offer of support during the church's problems with disruptive visitors came from a self-confessed Satanist. Referring to people who were entering the church to shout "Praise be to Satan!" he wrote…
"I have been Satanist all my life and would never have pulled any such thing. So, for all the immature twits within the Satanic community, you have my sympathies as I truly hope to see you fix the problem soon. Best of luck, sincerely, Satanist with a heart.
 "I immersed myself as deeply as possible in the rituals, beliefs, practices, and culture of 12 distinct faith systems (one each month for all 2011) and in the process, changed my life forever."–Andrew Bowen
Since I am on hiatus from the blog until next week, I asked Andrew Bowen of Project Conversion if he would be willing to be a guest on my blog. Blessedly, he agreed! The following is a great post he wrote last April.  You can also check out his website and his facebook page.
Drunk Dialing God
posted by
abowen
| 5:25pm Wednesday April 6, 2011
We've all heard the saying, "The road to hell is paved with good intentions," and the last three months have taught me that hell is a state of mind in which your soul is in anguish due to separation from the divine. Much like a child cut off and lost in the woods with nothing more than the echo of her screams.
The house was empty last night; my wife and kids were out of town and I was left to my own devices. I did what any good, observant Jew would do: I said prayers and studied the Torah and other books on Judaism. Right now I'm studying the creation account in Genesis and paying close attention to the relationship between God, Adam, and Eve. We are told of how God visited Adam in the "cool of the day" and basically chatted about…anything and everything. It was a relationship. The Tanakh (Old Testament) is full of them, and they were down right intimate and personal. Rabbi Groner spoke about this relationship as being intellectual, practical, and emotional. We see this dynamic between God and the Children of Israel page after page, yet it seems so foreign, so far removed by all these years. I wondered if the Jewish people feel that intimacy today, if God can be as conspicuously present in their lives as he seems to be in those stories.
So I cracked open a bottle of wine and asked him to come over for a chat. No special prayers (except one specific for consuming wine), no rituals, no religious primer, I just sat down in the fading light of my livingroom and asked God to hang out with me.
Simple enough, right? I'm not asking for money or health or anything selfish, just for God to visit me in the cool of the day. Well, the day became cooler, and darker. I lit my fire pot and poured another glass of wine. I sat quietly and patiently as I stared into the flame. I "called" again. No secretary, no voicemail…nothing, and by this point I've got a healthy buzz. Did God just stand me up?
I was disappointed and confused. All I wanted was some company. All I wanted was what those folks in the Tanakh had. Was I asking too much? Did I do something wrong? Does God not like cheap Merlot? Doubt crept in during my weakened state. The rabbis of the Talmud, a commentary and guide on the Torah, recognized two forces within us: the Yetzer Hatov or Good Urge, and the Yetzer Hara or Bad Urge. These forces are constantly at war within us and Judaism states that only good action (as pointed out by the 613 mitzvot) and repentance to God will defeat the Bad Urge.
I thought my invitation to God was a good thing. What's wrong with asking God to hang out?
"You're being selfish," my wife said. After a verbal beating for getting drunk, my wife went on to lambaste me for
My wife is way hotter, by the way.
 forgetting my lessons so far. "Didn't the Hindus teach you that God is everywhere? So why would you get upset that God didn't show up where and when you wanted him to when he's been here the whole time? And you really think he wants to talk to a drunk?"
Wow, no gloves, huh? She was right. It seemed so innocent to ask God to sit down and talk. But what was really going on here?
1) Deep down, I was jealous of the stories in the Tanakh, and we are asked not to covet what others have.
2) I set limits on God. If God is everywhere, why do I need him to sit in my chair? Which leads me to my next point.
3) I wouldn't need a physical representation if my faith was strong enough to begin with. Let's face it: when we ask God to "show us a sign" or just show up in general, what we are really saying is that we don't believe enough by default that he is there. Our fast-paced, materialistic world has conditioned us to only pay attention to what we can immediately see and consume.
God presented himself to the faithful when they had no previous physical representation. It seldom works the other way around. This doesn't mean that one should increase their faith just for the reward of a divine peep show. I would have done well to remember my Hindu lesson in the Upanishads stating that enlightenment and moksha is reached once we realize the divine in everything and as everything, therefore making representations useless obstacles. Think about it, if God showed last night, my impression of him would be forever cast into that limiting aspect. I would lose all ability to recognize the divine in all of creation because for a split second, he was reduced to a point in space in my living room. This is why God (in many faiths) strictly forbids the creation of idols, not because of jealousy on his part, but because he knows how such an image limits our perception of him. Ironic, isn't it, that the abstract then becomes a far greater representation than the specificity of a physical form.
I know what you're thinking: this guy has lost his mind. He's a crack job. Fair enough, but just remember: I'm not perfect. I'm going to screw up–a lot–and I think we can file this one under "screwed up," but not before we learn something, and that's what this is all about.
We remember that every time someone messed up in these stories, God was there. He clothed Adam and Eve after they partook of the fruit (kind of what I did last night) in the Garden. He brought the Children of Israel to the Promised Land after wandering for 40 years. Like a Chinese finger trap, we discover the way out only when we stop struggling. In connecting with the divine, struggling isn't the answer because we are literally in his presence 24/7. The epiphany only comes once we bring ourselves to rest and open our minds and hearts.
So what's the moral of the story? Don't drunk-dial God. He won't answer, but he will show up in the morning to help you sober up when you're ready to let him move freely.
Read more on Project Conversion here: http://blog.beliefnet.com/projectconversion/2011/04/drunk-dialing-god.html#ixzz1oIROa3l5
Thanks Andrew! And, speaking of drunk dialing, here is a throw-back article "Digital Hangover". No God, but a lot of regrets! Enjoy. Blessings to you all in the journey–Reba
 Friday night is date night, which usually means Trent and I can be found at Studio 35 (only the best historic, independent food-and alcohol-serving cinema!). After taking in a show and a few drinks, we call a taxi because A.) We are committed to obeying the law! Buzzed driving is Drunk Driving! (At least, according to the billboards). and B.) We prefer to avoid jail.
This means most Fridays around 11 pm, I can be found enjoying a fifteen-minute chat with a cab driver. I always make a point to nicely chat up cab drivers because A.) They have great stories hidden under those thick accents B.) I love great stories C.) They hold our lives in their driving little hands. (Ever wear a seat belt in a taxi? Didn't think so. I, for one, prefer our lives to be held in happy hands!)
 Being that I am, well, me, I can never resist inquiring about our driver's religion after we've covered family and interesting stories. (I'm curious, OK? Especially after a few drinks. No buzzed driving remember?) Recently I've been fishing for the best Somalian mosque to attend, because Columbus has the second largest Somalian population in the US, and Islam is the religion of the vast majority.
 So far, I've had one driver tell me, "You are going to hell…" because I'm not Muslim (In his defense, I did ask his opinion. And, he informed me nicely.) Another driver who had a Catholic mother and Muslim father said: "What I am you ask? Maybe…confused?"
 Last Friday's operator is my hands-down favorite though. Not only was he wearing a suit (I always wear suit for driving!), and supporting SEVEN children (Boys give me most trouble; girls, they easy!), but he was very forthcoming about his religious practices. This is the conversation, as close as I can recall.
 So…if I may ask, are you Muslim? Yes. What is the best Somalian mosque to attend? It all same. Somali, Pakistani, any race… we not discriminate. Any mosque best place. I pray five times day. In Mosque if possible. What if you're driving the cab when it's time to pray? If I drive you to airport, I drop you off then go to close mosque to pray. What if you aren't near a mosque? I pull over, pray in the cab. I can do this right here, in cab.See?  What if you're sleeping? I pray as soon I get up!
 This is where it gets interesting.
 The important thing not where pray, but pray in heart. That most important. Yes, I definitely agree with you. You pray, yes? You Christian? Yes.(I took the easy way out here and didn't explain the whole Thirty by Thirty thing.) See you pray too, you pray in heart? Yes.  It same. Very important to pray to God. I am Muslim which mean I honor all prophet and sacred book. Mohammad, Jesus, Qu'ran, Bible…I believe in all prophet and book. So you and me, we not so different. You pray, I pray. This all same. This important thing. So…you are Muslim, you pray to Allah, but it's OK if I pray to Jesus? Yes, OK, all OK.
 The gentleman is highly devout, very devoted to his faith. He prays five times a day! But yet…he holds his beliefs with his mind open to other faiths. I like him, I like him A LOT.
 Post-payment and tip, we thanked him and I left the cab spiritually shell-shocked. Here I am: spending a year of my life in 30 thirty places of worship, looking for theology that fits…and I find it. On date night.IN A CAB. 
 Not from the pulpit: from the front seat. Not from a minister: from a foreign taxi driver. Not while sensitively journaling about my faith: while buzzed after a good film.
 I doubt our driver will ever realize the impact he had on me in our short minutes together, but I'll always remember he added a few sentences to my personal theology. And that was well-worth the cab fare.
My dear friend Nadine and I rushed into the downtown First Baptist, almost on time. We were greeted by Sister Marge, who looked us up and down and pronounced: Y'all…visitors….? This was not a question. Taking into account our skintone, we were clearly not regular members of this historically African-American Baptist church. (We were, in fact, two of only three caucasians in the building… Out of 300+). Still, she kindly smiled and pushed visitor cards and pens across the table, gesturing for us to fill them out.
[Dear readers, it is important you know that I HATE filling out info cards. I dislike spam in any form: whether it be mail, email, or phone. At the mall, I easily tell salespeople that No, I will not give you my phone number or email upon checkout, despite their annoyed looks. Unwelcome phone calls do not end until my name and number have been wiped out of all systems and a promise to Never call me again is elicited.  Though occasional church communications do not necessarily fall under the spam category, they are suspect. (Especially because my filling out of a Jehovah's Witness form resulted in a surprise drop-in visit... the next day.) ]
While Nadine was happily filling in her life story, I was trying to wriggle out of the obligation. Can I take it to my seat, and return it later? An emphatic: No. (And when Sister Marge says No, with a look that says Don't you challenge me, little lady, you do it.) So I sparingly wrote: Name: R.. Address/Phone/Email: None. Religion: Lutheran. (I'm not sure why I wrote this, because I'm not, nor have I ever been, Lutheran.)
Post-Visitor Card, we were directed to sit in the last row of the first section. We took our places, thoroughly enjoying the joyous atmosphere and uplifting music. Until we consulted the program, only to notice the next scheduled event: The Greeting of The Guests. Before we had a chance to consider what this might mean,the choir sat down and Sister Marge took her place at the microphone. Will Miss Nadine [last name] please rise? She rose. Welcome Nadine! Miss [last name]is Catholic! And belongs to [local] Catholic parish! She resides here in the city, and enjoys [activities]! Welcome again, Miss Nadine! Nadine beamed and waved excitedly to the crowd, eyes shining.
Sister Marge cleared her throat. Uh-oh. Only she and I knew about the trainwreck that was about to happen.
 Will R. please stand up. R.? Gulp. I stood. What choice did I have? R. is Lutheran. Thank you and welcome, R. I waved, weakly. And sat, quickly.Ugh.
So, Reba, it wasn't bad enough that we were clearly outsiders, you had to go and use your Initial instead of your name. An Initial! What were you thinking? My cheeks were flaming. I worried the large congregation would give us the cold shoulder, perhaps thinking I was making fun of their formal Welcoming. While occupying myself with worries (I am so bad at this visiting thing. I should totally quit, like, now. I've totally embarrassed myself!) the service marched right along to The Fellowship.
The Fellowship is a time when congregants greet (Warmly! With a Holy Hug!) one another for about fifteen minutes. This is no cold, perfunctory Peace be with you and also with you, limp-handshaked greeting time.  No! This Fellowship? It's a full-contact sport.
Watching people begin to enthusiastically Hell-o! Don't you look fine this morning! to each other, Nadine and I sort of just stood there for a few beats… like we were waiting to be asked to dance and weren't sure what to do in the meantime.We didn't wait for long though! Within minutes we were swept into the enthusiastic embrace (literally) of the crowd-at-large. Never in my life have I given or received so many hugs and heartfelt welcomes!We're so happy to have you, dear. Won't y'all stay for the involvement fair after service? It's a potluck! But don't worry yourself if you didn't bring anything…we've got it covered! Bless you, child, bless your sweet lil' hearts for visiting! I made sure to clarify my first name was Rebecca, though everyone was nice enough not to mention it. Sister Marge wrapped me into one of the warmest hugs: So glad to have you,come back again! So I can only assume all was forgiven.
The moral of today's story is this: If you should ever awaken on a Sunday morning feeling bad about yourself, walk (nay, run!) to the nearest African-Amercian Baptist Church. You are guaranteed to receive, at minimum, 100 hugs from little ladies wearing lovely hats, and strong handshakes from dapper, suited gentlemen. You will be Blessed  within a centimeter of your existence…and I dare you to feel bad after all that good, old-fashioned, Baptist love.
To be continued…
In reference to The Torture and the Torture: Basketball Fail
My bootcamp? AKA, The Torture?
Was moved. From a gym…
…to a CHURCH.
And not just any old church, but the non-denominational, charismatic-leaning type I grew up with. Every morning. At 6am. Ain't that rich. Please note: The trainer does not have any affiliation with the church; it just happened to be the closest open space when his contract with the gym ran out.
I am quite literally, building my muscles: in a SANCTUARY. Lest, dear reader, you think I am kidding, here is the proof:
I started this Thirty by Thirty project as a "Spiritual Boot Camp" to overcome Post-Traumatic Church Syndrome…and now it has morphed into an actual, physical bootcamp…in addition to the regularly-scheduled faith finding.
Coincidence…or more?
Upon visiting this church last Sunday (how could I not? Like a moth to a flame, baby) it suffices to say: I lied. In a church. To a pastor. When he asked me if I enjoyed the service. But what else could I do? I was helpless in the face of his earnest, shiny little face. Sorry, God. I also experienced some PTCS symptoms I couldn't shake when I marched into Monday morning bootcamp: the PTCS combined with The Torture, incited me to take the Lord's name in vain  (something I generally try to avoid). But what else could I do? I was helpless in the face of my seeking, sweaty litte heart Sorry, God.
[Sidenote: Is it actually taking God's name in vain if you may or may not actually need help to get through  a workout? THis is a quesiton for one wiser than me.]
And thanks Kanye, for reminding me in bootcamp/church:
N-now th-th-that that don't kill me
Can only make me stronger
I need you to hurry up now
'Cause I can't wait much longer
Work it harder make it better,
do it faster makes us stronger,
more than ever, never over,
Our work here is never over.
For now: Bicept Curl! Soul Pushup! Repeat!